With the US markets off-trading due to the Independence Day holiday, the risk environment was met with a more subdued tone without much economic data to catch on. European markets were flat to slightly lower on a thinly-traded session, while at the time of writing, US equity futures are on some wait-and-see as well.
The market focus today will be on the Federal Open Market Committee (FOMC) minutes. With the higher terminal rate forecasts at its previous meeting, more clarity on policymakers views around that guidance will be sought in the upcoming minutes. That said, the minutes could be perceived to be outdated somewhat, given that we have a series of positive economic surprises and a softer-than-expected core PCE inflation figure released after the Fed discussion. Market rate expectations have also been unwavered by previous hawkish Fedspeak, which suggests that it may have to take much more from the Fed minutes to convince markets of a more hawkish outlook.
Having largely traded in a long-ranging pattern since November last year, the DJIA is back to retest the upper edge of the consolidation zone once more at the 34,500 level. Having failed to find a breakthrough above this level on multiple occasions since late-2022, it has served as a key level of resistance to watch, accompanied by recent lower highs on the daily Relative Strength Index (RSI). The more value-focused DJIA is just up 3.9% year-to-date, way trailing behind the Nasdaq Composite's 33%. With chatters of the risk rally turning more broad-based, a break above this level may be warranted to provide greater conviction for further catch-up performance in value stocks. Any break above the 34,500 level could potentially pave the way to retest its April 2022 high next.
Source: IG charts
Asia Open
Asian stocks look set for a slightly weaker open, with Nikkei -0.44%, ASX -0.26% and KOSPI -0.24% at the time of writing. Chinese equities managed to stay in the green yesterday, with the Hang Seng Index up 0.6%.
As a follow-up to China's move to restrict key materials for manufacturing semiconductors, US plans to restrict Chinese access to US cloud-computing services, according to a report by the Wall Street Journal. Ahead of US Treasury Secretary Janet Yellen's visit to Beijing this week, recent action from both ends seem to be a display of their tough stance in the bilateral relationship, potentially to showcase their competitive advantage to gain leverage in any discussions. Any resolution or inaction from the visit could take some focus into next week.
Ahead, China's services Purchasing Managers Index (PMI) read will be on the radar today to provide clues on how the country's consumption-led economic recovery has been playing out. Since the start of the year, the reading has outperformed expectations on 5 out of 6 previous occasions, which may translate to some near-term relief for Chinese equities if the trend continues.
The takeaway from the recent Reserve Bank of Australia (RBA) meeting was a hawkish pause, which saw the AUD/JPY ticking slightly higher to retest the 96.84 level of resistance. This follows after a bounce off an upward trendline at the 95.34 level, which also marked a horizontal resistance-turned-support. Having traded on higher highs and higher lows since March this year, any move above the 96.84 level could set its sight to retest its year-to-date high next, followed by the 98.75 level.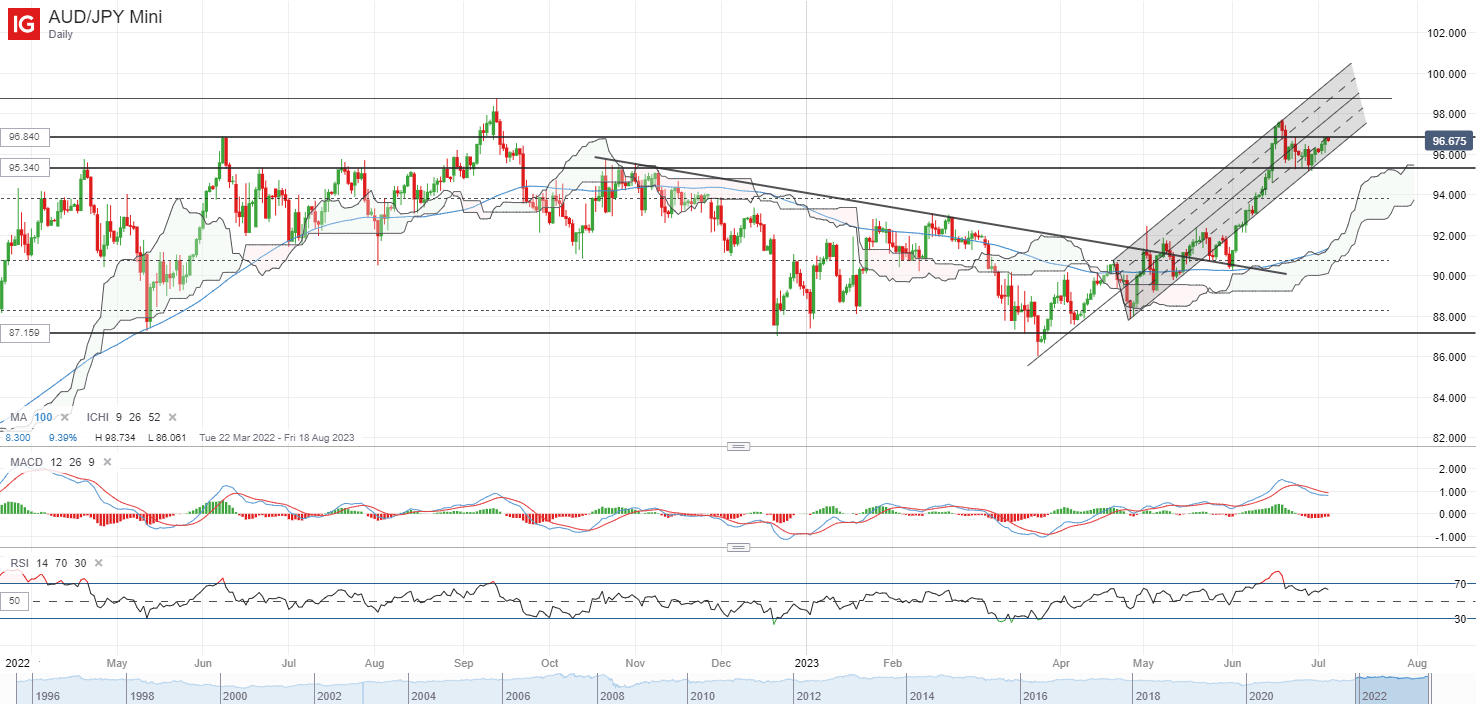 Source: IG charts
On the watchlist: USD/SGD heading closer towards ascending triangle apex
After falling by 10% since September 2022, buyers have been attempting to take back some control since the start of this year, with an ascending triangle pattern formation in place year-to-date. Much still await for now, with the bearish divergences on RSI and MACD pointing to some waning upward momentum on recent tops.
The 1.360 level will serve as the immediate resistance to overcome ahead. A recent retest of the upper triangle trendline around the 1.360 level has failed to find a breakthrough for the third occasion this year, leaving it as a key resistance level to watch. Any subsequent move above this level could better reflect buyers in control, which may pave the way to retest the 1.376 level next. On the downside, the rising lower trendline support of the triangle formation will serve as support around the 1.340 level.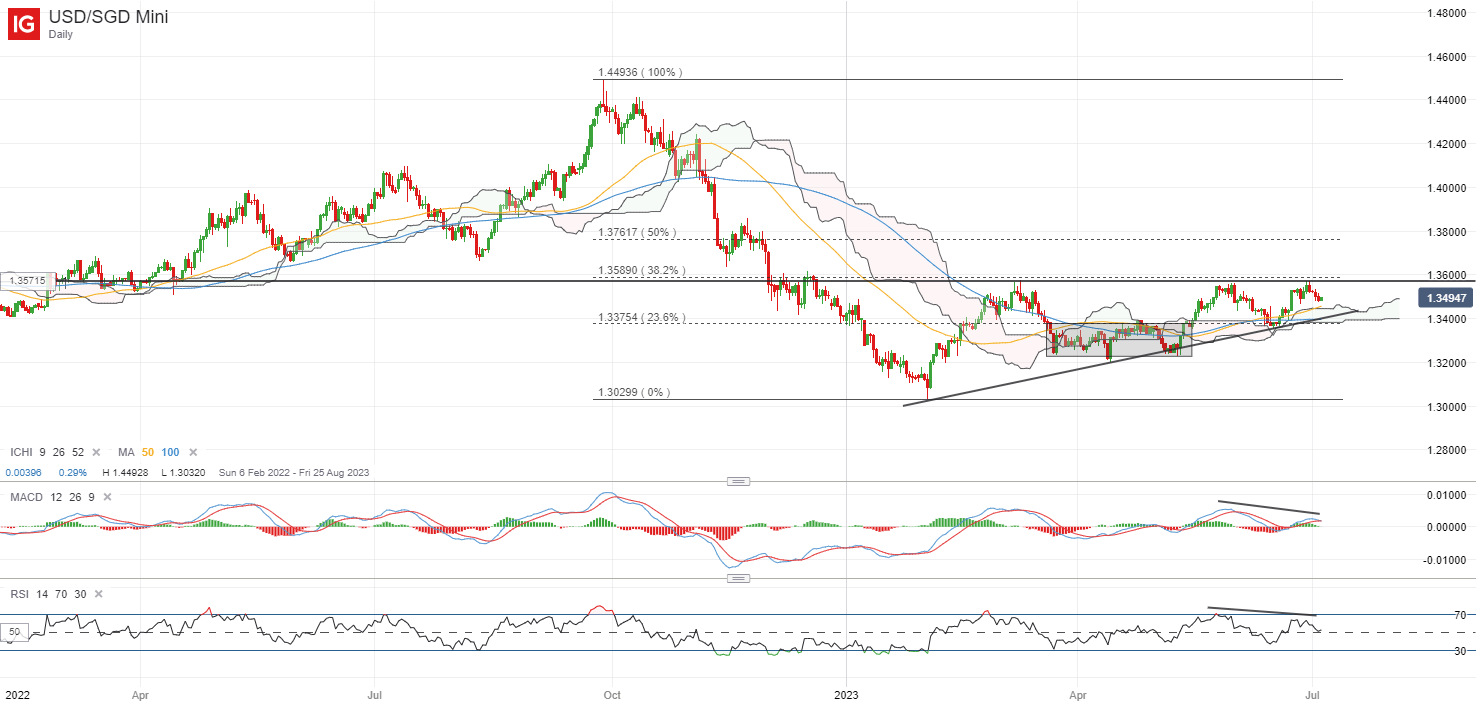 Source: IG charts
Tuesday: US markets closed for holiday, DAX -0.26%, FTSE -0.10%
Article written by IG Strategist Jun Rong Yeap