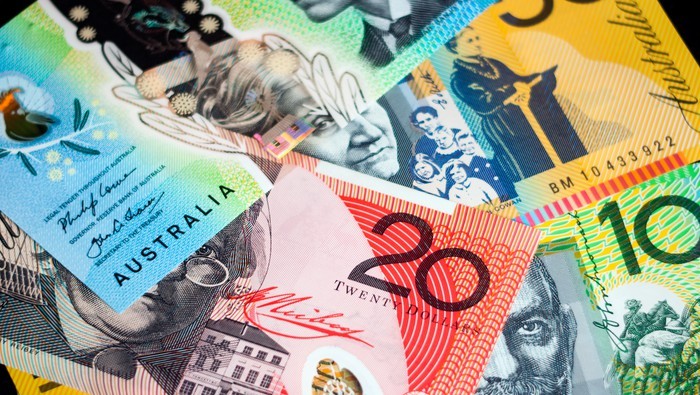 A feature of many asset classes in 2023 has been a range trading type of environment and AUD/USD is an example of this. At the half-way point of the year, the Aussie Dollar is yet to get anywhere near testing the 2022 high or low at 0.7660 and 0.6170 respectively.
Recommended by Daniel McCarthy
Get Your Free AUD Forecast
Asymmetric Triangle – AUD/USD
Looking at the bigger picture, at the outbreak of the pandemic AUD/USD made a low near 55 US cents before recovering to trade above 80 US cents on the back of government and central bank policy responses. As it has traded back and forth within these parameters, an asymmetric triangle has been created.
The triangle is formed by a descending trendline on the upper side and an ascending trendline on the lower side. Given the timeframe in the chart below that illustrates this pattern, AUD/USD could continue to trade withing the triangle for an extended period. In doing so it would be maintaining the range trading environment.
However, a break either side of the asymmetric triangle might see momentum pick up in that direction. In the interim, the previous highs, lows and breakpoints might be levels to watch. See the right-hand side of the chart below for reference.
AUD/USD Weekly Chart
Chart prepared by Dan McCarthy, created with TradingView
Recommended by Daniel McCarthy
Get Your Free AUD Forecast
Range Trade – AUD/NZD
It is not surprising that AUD/NZD is known for being a range trading currency pair given the similarities and close proximity of the two economies. It has traded in a 1.0000 – 1.1700 range for 10 years.
Looking more closely at the weekly chart below, AUD/NZD has dipped below the 52-week Simple Moving Average (SMA). Crossing this SMA can sometimes, but not always, be indicative of underlying momentum.
If near term bearish momentum evolves then support might be near the prior lows of 1.0560, 1.0470, 1.0360, 1.0315 and 1.0280. If the price breaks back above the 52-week SMA and bullish momentum unfolds, resistance could be at the breakpoints and previous peaks around 1.1050, 1.1090, 1.1175, 1.1240 or 1.1490.
AUD/NZD Weekly Chart
Chart prepared by Dan McCarthy, created with TradingView