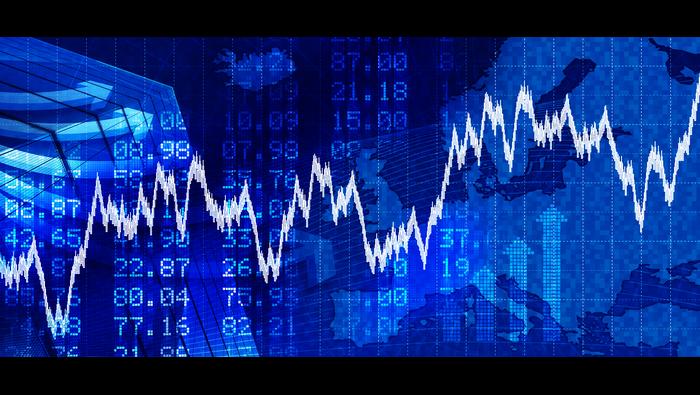 Recommended by Manish Jaradi
Traits of Successful Traders
Global equity markets tumbled while the US dollar rose as risk appetite took a back seat following aggressive tightening by global central banks in an attempt to rein in stubbornly high inflation.
The MSCI All Country World index declined 2.2%, the S&P 500 index fell 1.4%, and the Nasdaq 100 index dropped 1.3%. The German DAX 40 tumbled 3.2% and the UK FTSE 100 fell 2.4%. In Asia, the Hang Seng index plunged 5.7%, while Japan's Nikkei 225 fell 2.7%. Risk-sensitive currencies, including the Australian dollar and the New Zealand dollar, were down 2.9% and 1.5% respectively over the week.
Past week market performance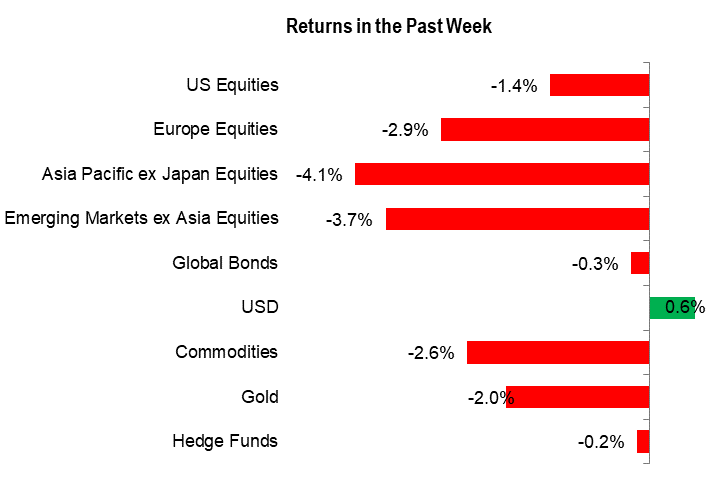 Source Data: Bloomberg; chart prepared in excel.
Note: Global Bonds proxy used is Bloomberg Global Aggregate Total Return Index UnhedgedUSD; Commodities proxy used is BBG Commodity Total Return; Hedge Funds proxy used is HFRX Global Hedge Fund Index.
The Bank of England surprisingly raised interest rates by 50 basis points, compared with expectations of a 25-basis-point move. Norway's central bank unexpectedly hiked interest rates by 50 basis points and said it projected another hike in August. Swiss National Bank increased its policy rate by 25 basis points last week. In the previous week, the European Central Bank raised interest rates and indicated more hikes, while the Bank of Canada and the Reserve Bank of Australia surprisingly raised interest rates earlier this month.
This month, the US Federal Reserve was an exception as it left interest rates unchanged. However, Fed chair Powell reiterated last week the central bank's hawkish stance saying more rate hikes may be needed, adding that interest rates would move at a "careful pace" from here. Powell said "the point" of holding rates steady was precisely to slow the speed with which the Fed was raising borrowing costs
The renewed hawkishness of global central banks comes as inflation, while moderated, still remains above the central banks' target. So far, the global economy has been resilient, but the concern is further aggressive tightening could push the global economy into a recession.
The coming week begins with three days of ECB Forum on Central Banking, and Germany's Ifo Business Climate on Monday; ECB President Lagarde's speech, Canada inflation for May, US durable goods orders for May, and US consumer confidence for June are scheduled for Tuesday. Germany GfK Consumer Confidence for July, ECB President Lagarde's and Fed Chair Powell's speech on Wednesday. Australia retail sales for May are due on Thursday along with US Fed Chair Powell's speech, Euro area consumer confidence, Germany inflation data for June, and US Q1 GDP. China NBS manufacturing PMI, UK Q1 GDP, Germany retail sales for May, Euro area inflation data for June, and US PCE price index data are due on Friday.
Forecasts:
Euro Outlook: EUR/USD Veers Off Bullish Path after Rejection at 1.1000. Now What?
EUR/USD fails to hold above 1.1000 and turns lower heading into the weekend, dropping below the 1.0900 handle and challenging a key trendline support. Will the bears be rebuffed?
British Pound (GBP) Week Ahead: A Bruising Week For Sterling
The British Pound is ending the week in the red despite the Bank of England hiking rates by 50bps. Fears of an impending recession are stalking the Pound.
Australian Dollar Outlook: US Dollar in Play as Local Bond Yields Invert
The Australian Dollar capitulated last week as the US Dollar regained the upper hand with the Fed talking up more hikes while Aussie bond markets see clouds ahead. Lower AUD/USD?
USD/JPY Price Forecast: More Misery to Come for Japanese Yen?
The Japanese Yen heads into a US data filled week on the backfoot as the Fed and BoJ look to be diverging once more.
US Dollar Week Ahead: USD Looks for Cues from PCE Data
The US dollar could remain in a range ahead of the key US PCE price index data due Friday. Will the Fed's preferred inflation gauge could move the needle for markets, which are not convinced that the Fed can hike twice more this year?
S&P 500, Nasdaq Forecast: Fed Testimony Gets Markets Back Onside
Fed Chair Jerome Powell reiterated the Feds hawkish stance on rates during his two-day testimony before congress. Finally, markets listened
Gold Weekly Forecast: Bearish Breakout May be Limited as Recession Fears Grow
Gold staged an attempted recovery on Friday as recessionary fears were reignited. Is the current selloff a precursor for the next bullish rally?
US Crude Oil Weekly Forecast: Prices Will Struggle With Demand Uncertainty, Rising Rates
Energy markets still face the toxic mix of plentiful supply and depressed demand.
Trade Smarter – Sign up for the DailyFX Newsletter
Receive timely and compelling market commentary from the DailyFX team
Subscribe to Newsletter
— Article Body Written by Manish Jaradi, Strategist for DailyFX.com
— Individual Articles Composed by DailyFX Team Members
— Contact and follow Jaradi on Twitter: @JaradiManish